There are some settlements in Fallout 4 that stand out from the rest because of everything they have to offer the player.
In Fallout 4, you can help the Minutemen take back the Wasteland by building settlements for other people to live in. This is an interesting way to play. With enough work, players can build a small power in the Commonwealth that will give them a steady flow of caps, supplies, things to buy, and even help in battle. It is one of the best games ever for making bases.
There are many settlements in the game, but some are better than others in terms of what they can give the player. Here are the best settlements in the game, based on how easy they are to hold, how much land they have for farming, and how nice they look.
Hangman's Alley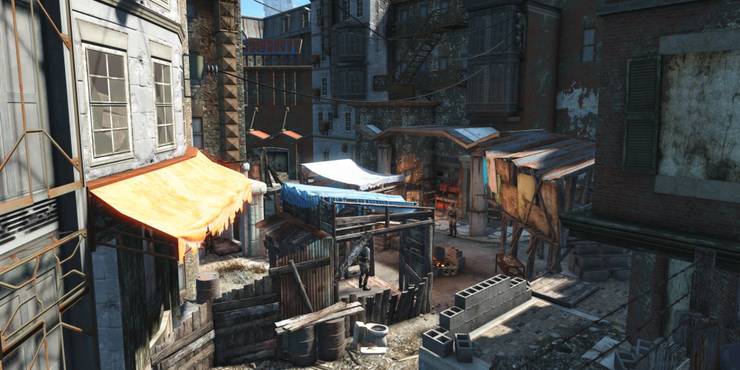 Most people don't want to live in a ditch when they are looking for a place to live. Hangman's Alley isn't a terrible settlement, though. It's not the best in the game, but the place is very easy to change, so you have a lot of freedom to make it look and work the way you want.
Also, the setting is great. Most settlements are out of the way, but this one is near Diamond City and other famous places. This is helpful not only when traveling around the Commonwealth, but also for supply lines.
Red Rocket Truck Stop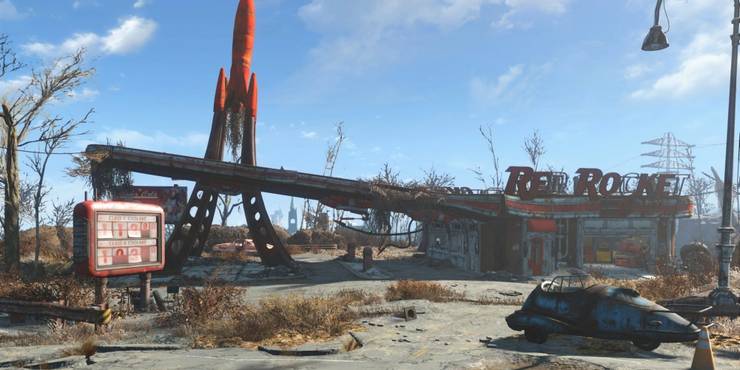 The Red Rocket Truck Stop is a very small settlement, so it probably shouldn't be your main base. But the place is still valuable. For one thing, you don't have to do anything to get the place because it's already there.
It also comes with a weapons workbench, a power armor station, a science station, a cooking station, and a power armor station. Also, you can build on top of the roof if you need more space. Overall, it's a good place for a lone survivor to hang out, but it's not a good settlement for a whole society to live.
Warwick Homestead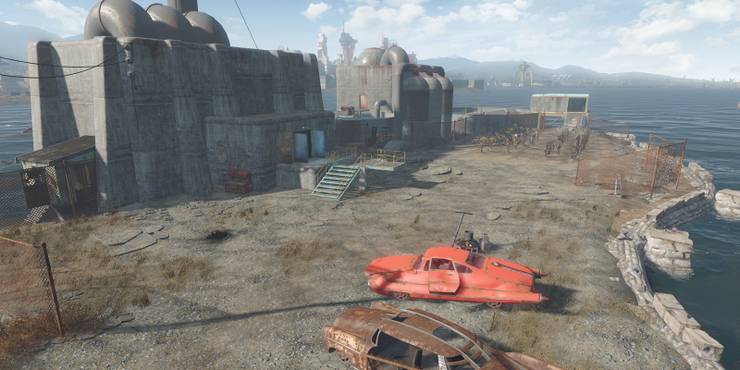 The Warwick Homestead is a settlement made out of an old waste treatment plant. The main building is pretty big, and if you use stairs and walkways in a smart way, you can turn it into an interesting and hard to defend spot.
There is also a fair amount of farming, and the Warwick family will already have a few gourd plants there. Even though it sounds bad to turn a waste treatment plant into a home, the Warwick Homestead is a good place to house your friends and grow food.
Kingsport Lighthouse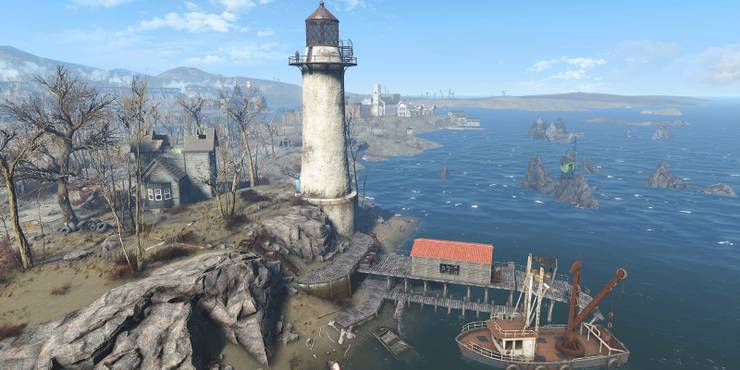 The Kingsport Lighthouse has a medium-sized building area, but it already has a lighthouse, home, dock, and a small area for farming. It also has natural defenses like the ocean and rock ledges, which force attackers to come by the dock or road, which are easy to defend without having to be there.
Even though it's not the biggest or most impressive settlement, it's still a great addition to your kingdom because it can support itself. Set up defenses, send out scavengers, build farms, and connect it to your trade lines.
Finch Farm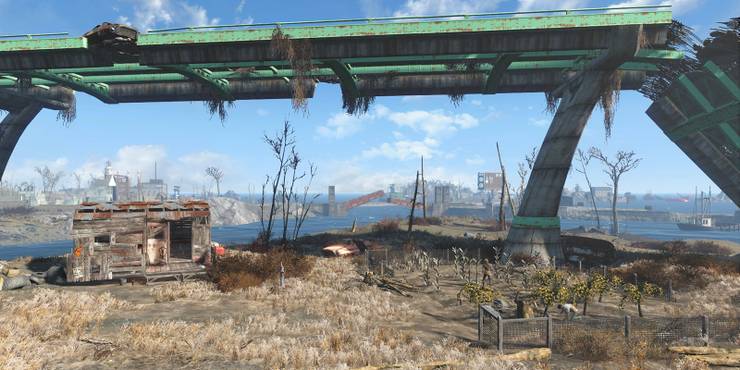 When you get the Finch Farm, it doesn't look like much. There is a water pump, a place to cook, a small cottage for a family of four, and a small piece of land that already has crops growing on it. You could just put a few farmers and defenses up and move on, but this place has a lot of promise that hasn't been used yet.
The building height goes up to the overpass above. This means that with a set of stairs, you can extend your settlement up to this vantage point for more housing, access to the streets above, and great defenses.
Starlight Drive-In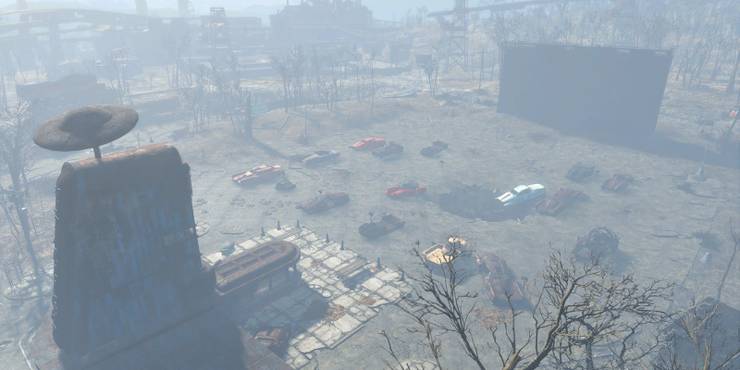 This parking lot, which used to be a drive-in movie theater, is now full of rusting cars and barrels of radioactive trash. You can turn those cars and radioactive barrels into valuable materials and use them to make a big flat surface on which to build your dreams.
It's great for keeping a lot of people at once, so they can live on top of each other. It's also a great place for a personal gallery where you can show off your collection of power armor.
Egret Tours Marina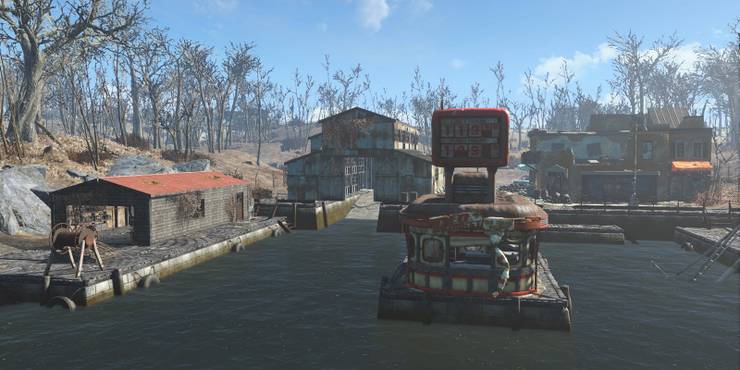 The run-down houses and random encounter spawn point at Egret Tours Marina might make it seem like a bad place for a base. This is because the random encounter spawn point means that this place will be attacked a lot. But with the right setup, it can be useful for both you as a player and your kingdom.
This base has a lot of water that can be used to make water to ship to other settlements. It is also close to the edge of the Glowing Sea, which makes it a good place to start an adventure into this dangerous area. Focus on building defenses and getting clean water to the outpost. Set up some workshops and one or two trade posts to get goods.
Covenant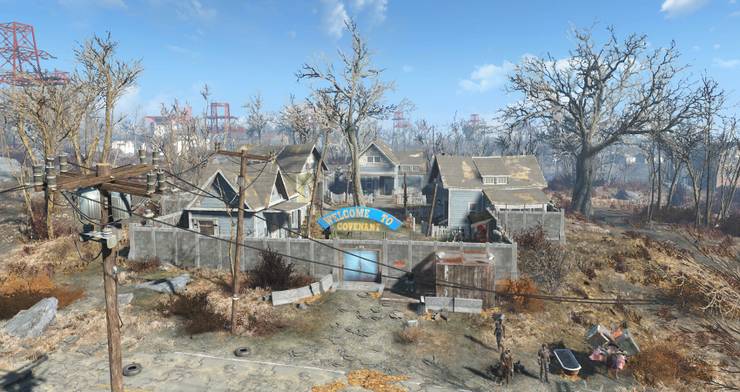 This small town is a good settlement as soon as it is gained. The whole settlement is surrounded by walls, and there are a lot of people living there. Every day, a robot named Deezer delivers a can of Deezer's Lemonade that heals 50 hit points.
But the settlement is one of the smallest in the game, and there are already houses there, so it's not very easy to change. Also, once the cool gun turrets on the walls are destroyed, they can't be restored.
The Mechanist's Lair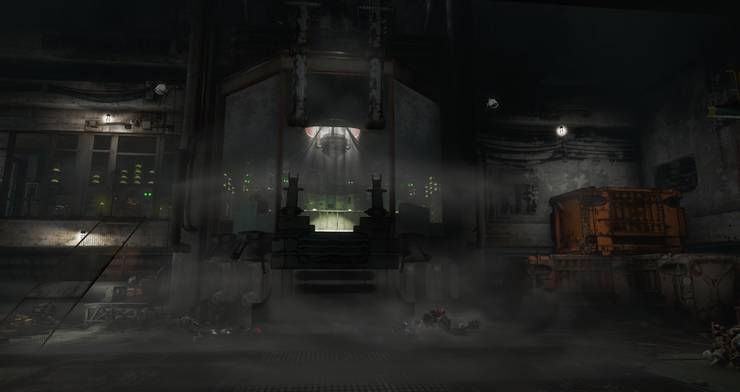 The Mechanist's Lair is a great settlement that looks and works well. It is part of the Automatron add-on. It is where the famed Mechanist lived. She used robots to try to keep the Commonwealth peaceful. This place of hers is a great place to camp out if you like to play a role.
This underground base has a secret door that can be used by people who want to play the role of a mad scientist or a bad guy. Even though it can't grow its own food, it will need help from another settlement, but the robotic factory is a great place for dark characters.
Sanctuary Hills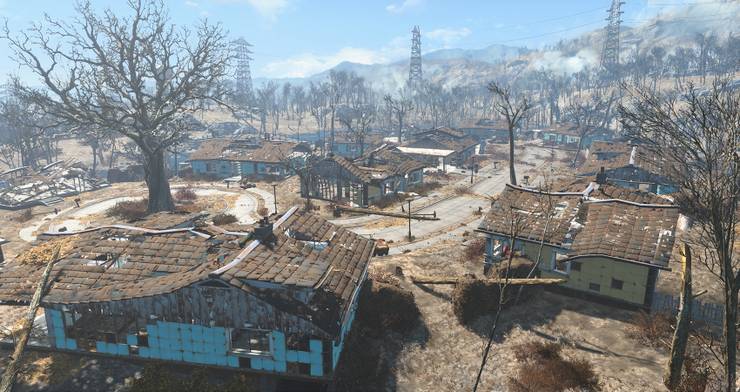 When the Sole Survivor goes on a quest to find their stolen son, they can move back into the house they lived in before the nuclear war. Even though it will never be as good as it used to be, players can rebuild Sanctuary Hills into a makeshift post-apocalyptic town right out of the Rick and Morty episode "Rickmancing the Stone."
From a practical point of view, it has a lot of room for its people and good farmland. But with so many entry points, it might be hard to protect. Not to mention that it's a little sad to live there since your spouse and friends have died.
Echo Lake Lumber
This old lumber mill is one of the bigger settlements in Funny Shooter 2 and makes a great base. It takes a lot of work to clean up the trash, but this gives you a lot of wood and other building supplies, so it's worth it.
There is a hedge that acts as a natural wall, a lot of room to farm, and the main house is more than enough for settlers to live in. It's a strong settlement that can take care of itself and is easy to defend once it's been cleaned up and set up.
Bunker Hill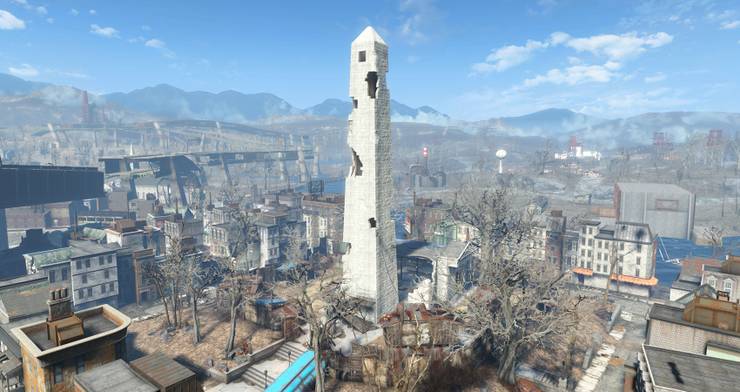 This settlement is a good place to hide and stay safe during a siege. It has a strong wall around it and a big door that keeps out enemies. It also has a big structure in front, but you can't build on top of it.
One of the best things about this settlement is that it already trades, so there is a steady flow of caps. It's one of the best settlements to get, even if you don't want to build there or use it.
Graygarden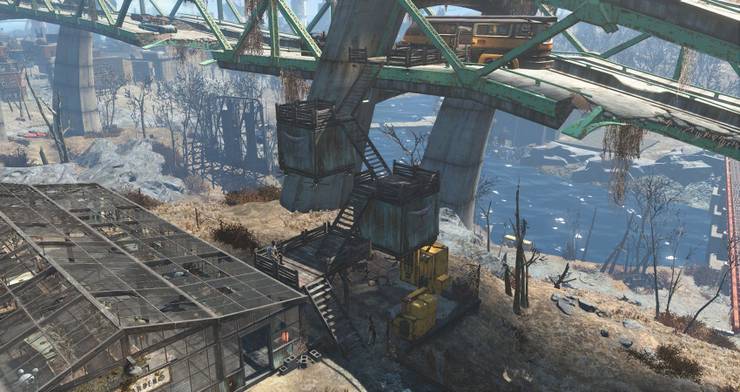 This strange settlement is useful and can be changed to fit your needs. The Graygarden comes with a team of Mister Handy robots that are busy gathering and taking care of a greenhouse. In addition to the plant that is already there, the robots don't need water or food to stay alive. This means that the player can eat all of that food, sell it to merchants, or use it to feed settlements that can't do it on their own.
The highway above this settlement is also part of the building area, which is another cool thing about it. So players who are creative can build a huge staircase going up to it and use that area as part of their settlement.
Vault 88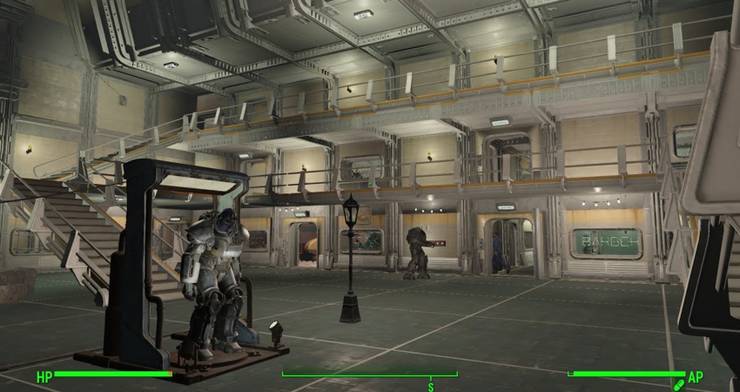 The player can get this empty vault and use it as a new home in the ground. It's a huge area that can compete with the biggest settlement in the game and can be changed to fit any need. The quest to get this vault also gives the player access to prototype technology that can improve the lives of settlers and make it much easier to take care of a network of settlements.
Because building sizes are limited in the vanilla version of the game, not all of the room in Vault 88 can be used. You can get around this with some simple modding, if you know how.
Abernathy Farm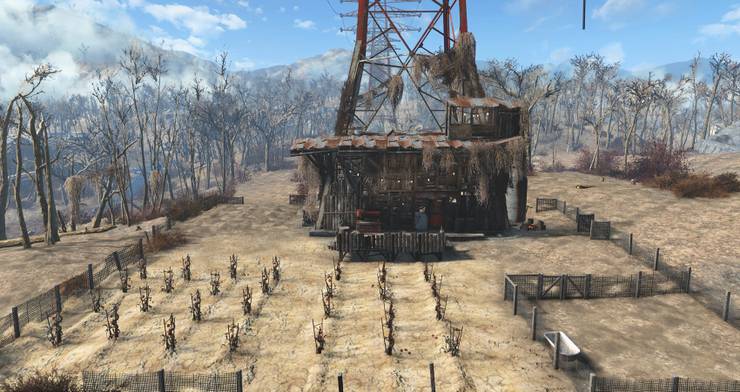 At first look, this settlement doesn't seem to have much going on. A simple farm has been built around a power pole. But the player can build up to a huge 20 stories on this simple farm, which is the most in the game.
Even if you don't want to build a 20-story castle, it's still a fully-functioning farm with a lot of space for more crops. With a wall and some simple defenses, it's a great place to get food for your network of settlements.
The Castle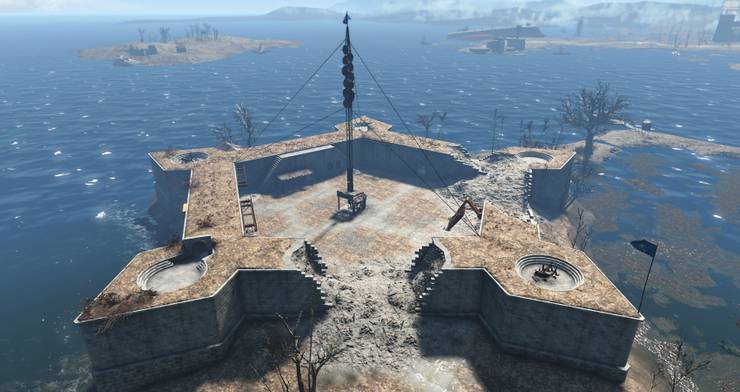 As the player's empire of settlements grows, it makes sense for them to live in a castle. Once all the Mirelurks are gone, this stone castle will make a great base. It has beds, medical facilities, an electrical system, an industrial water purifier, and a lot of turrets.
It's great for people who want something ready to go, and once the holes in the wall are fixed, it's a very strong defense. The only problem with this place is that it's getting close to its maximum number of buildings and doesn't have much room for customization. But if you have a castle, who needs that?
Spectacle Island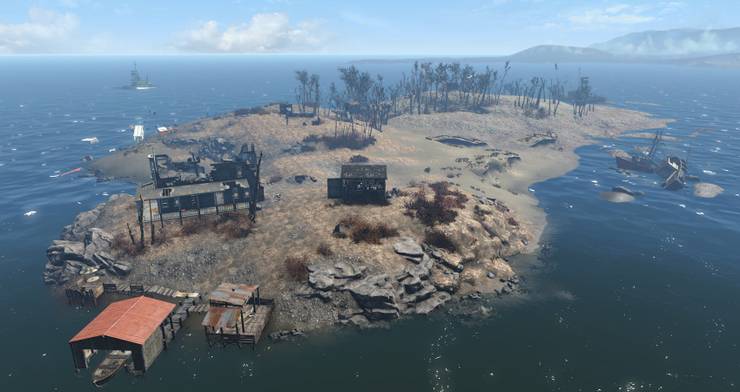 This huge private island is by far the best settlement in the game.Once the beacon is turned on, it keeps Mirelurks away. A ship engine provides the power. It also has the most square area and a good height limit, which gives a lot of room for creativity.
It does take a lot of work, that's true. There is a lot of trash, and much of it is underwater. Other than free power, there isn't much else there. But because of its size and the ocean's natural defenses, it can be the perfect place for players to build their own private paradise island or wasteland castle.